Our caring team's top priority is to always make you feel welcomed and part of the family whenever you visit us here at Semtner Dental. During your time with us, we are here to handle anything you need while Dr. Rob Semtner, Dr. Mona Semtner or Dr. Adam Holt care for your teeth. If you have any questions and would like to schedule an appointment with our dentists in Roanoke, Virginia, please give us a call at 540-989-0112.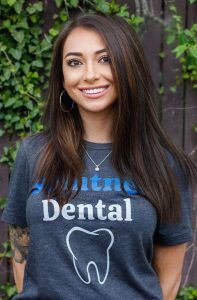 Lindsey Bowman
Marketing Director
Lindsey Bowman was born in Roanoke, Virginia and currently lives in Axton. After graduating high school, she worked at a veterinarian's office cleaning canine and feline teeth. She then found that she had a love for dentistry. Lindsey is X-ray and CPR certified and has been a part of our team since 2019 as a dental assistant. She quickly became the positivity leader of the office, taking over ordering and helping with the front desk and insurance. In 2021, she become our marketing director as she loves to grow and learn new things. She states her favorite thing about her job is, "I love creating relationships with our patients and learning all the new technology. This job has taught me many new things and marketing our wonderful company has been my all-time favorite. It's also made me grow in so many ways, in my work life and in my personal life."
In her spare time, she is a mother to her son Cayden, engaged to her wonderful fiancé Cameron Bowling and a dog mom to her three pups; Dobermans, Roxy and Lexy and German Shorthaired pointer, Lady May. She recently bought her first home in 2021 and enjoys spending time at home with family and friends, spending time at her family's lake house, surfing on their boat, traveling, hiking, going to races, riding four wheelers with my family, hunting and fishing. She is looking forward to marrying her fiancé in 2024 and states, "he was in the marines for nine years and I'm so proud to call him mine."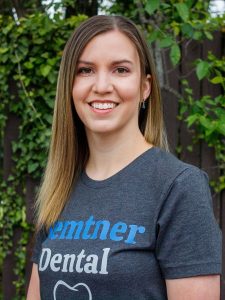 Emily Clement
Office Manager
Emily Clement was born in Sunbury, Pennsylvania, moved to Bedford in 1993 and currently lives in Goodview, Virginia. She attended Liberty University for business management. She is X-ray and CPR certified. Emily became a part of our team in 2019 as a dental assistant. Recently, she got promoted to office manager. Emily states that the most rewarding part of her job is "building close relationships with our patients and staff and making sure they are well taken care of." She also states, "My goal is being the best role model and making sure our business is running smoothly."
Outside of work, Emily is a wife and mother to her five children. She is a coach for her children's soccer team, and she enjoys going on family vacations, spending time with her family and baking.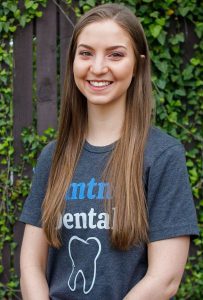 Anna Thompson
Front Desk Associate
Anna Thompson was born in Bedford, Virginia. After graduating high school, she attended school at Old Dominion University and graduated with a bachelor's degree in exercise science. She is certified in CPR and a certified personal trainer through the American College of Sports Medicine. She has been a part of our team since 2022 as a front desk associate and has loved learning about dentistry. She states, "I love that I have learned how to properly take care of my teeth, as it's something I never fully understood before working here." Anna has six siblings and ten nieces and nephews. Being an aunt is one of the greatest privileges I've experienced so far.
In her spare time, Anna enjoys baking and trying out new recipes. Anna loves to work out every morning, as it makes her feel ready for the day. She also enjoys traveling to North Carolina to see her boyfriend of over three years who is currently in the Marines.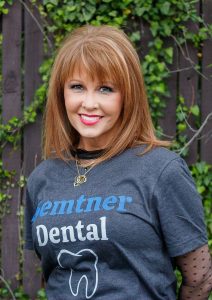 Cathy Tabor
Front Desk Associate
Cathy Tabor was born in Roanoke, Virginia. She has also lived in Illinois, California and Norfolk. Cathy moved back to Roanoke in 2013 and has been a part of our team since then as a front desk associate. She is X-ray and CPR certified. Cathy enjoys interacting with the patients and she states, "I love knowing our patients are happy when they leave our office and my coworkers are like family to me and we work for the best doctors." Cathy has three grown children that live in northern Virginia. Outside of work, she enjoys going to visit her children and spending time with her grandchildren. Cathy also enjoys gardening, going on walks and attending classic rock concerts.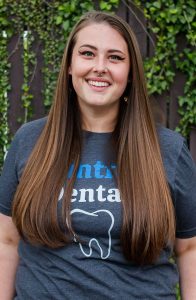 Amber Wingate
Registered Dental Hygienist
Amber Wingate, RDH, was born in Salem, Virginia. She attended Virginia Western Community College and graduated with her dental hygiene license in 2015. She is also certified in CPR and laser treatment. Amber has been a part of our team since 2019 as an RDH. She enjoys her job because she creates relationships with her patients. Amber played softball while in high school and states, "One time, I hit two back-to-back grand slams and it was awesome".
In her spare time, she absolutely loves to travel. So far she has made it to Ireland, eastern Europe, New York City and San Diego, California. A few of those trips she did solo, and it was the best experience for her. Amber also loves to maintain her vegetable garden and hang out with her three cats and 10-year-old lab named Charley.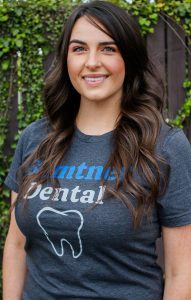 Sara Pendry
Registered Dental Hygienist
Sara Pendry, RDH, was born in Savannah, Georgia, but grew up in Roanoke Rapids, a small town in eastern North Carolina that is also on the Roanoke River. Sara studied theater at ECU (East Carolina University) after she graduated high school. After her time at ECU, she realized she didn't want to be a starving actress and became a dental assistant at a dentist office in Solana Beach, California, in San Diego County. There she discovered an unexpected love for dentistry. In 2013, Sara moved back to North Carolina and decided to go back to school and become a dental hygienist. Sara was the first person in the history of her dental hygiene program at Halifax Community College to pass both her National Board and her Clinical Board before graduation. Sara has lived in Roanoke since July of 2021 and has been a part of our team since then. Sara's favorite thing about being a dental hygienist is getting to create positive experiences for people in the dental chair, a place where a lot of people are not very comfortable. Sara sees her patients as an extension of her family and loves catching up with them at their visits.
When Sara is not at work, she loves to spend time with her husband, Tyler, and their two girls, Zoe and Evie. Sara enjoys hiking, skiing, going to the beach, reading, going to concerts and theater productions, and traveling. Above all, she enjoys being a wife and a mom.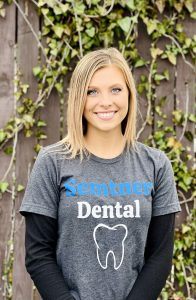 Courtney Grantham
Dental Assistant
Courtney Grantham was born in Roanoke and raised in Franklin County, Virginia, with her sister, Ashlea. After high school, she completed a program through Les Cheveux, and obtained her nail technician license. Courtney had found she wanted a change so she decided to get her X-ray certification and has now been in dentistry for a little less than a year. She states, "I truly enjoy making relationships with our patients, as well as learning so many new things along with all of our up-to-date technology." Outside of work, she has two beautiful children, Rae, who is four years old, and Briggs, who is two years old. Courtney and her family really enjoy vacationing and going to the lake and beach. In her spare time, outside of being a mother, she enjoys going to concerts and painting.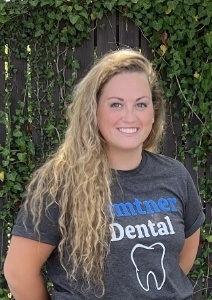 Danielle Vess
Dental Assistant
Danielle Vess was born and raised in Troutville, VA. In high school, she was huge into soccer, played for 13 years, and traveled to Europe to play while she was on a travel team. Danielle went to school to be a certified dental assistant at Penn Foster and went to Virginia Western for general studies. Danielle is also X-ray and CPR certified. She has been working in the dental field for less than one year and states, "I love seeing my patients happy when we make them feel more confident with their smile." Danielle also looks forward to learning and growing in our office in the years to come.
Outside of work, she recently got married to her husband, Hunter, in 2022. They have been together for six years. In their free time, they love to golf, spend time with family, go to the lake, play board games and travel.